Employment
Opportunity is Everywhere.
Superior Ambulance Service, Inc., (SAS) has a strong commitment to the health, safety and welfare of its employees, patients and customers. SAS has adopted a Zero Tolerance position based on our commitment to preventing the use and/or abuse of alcohol, drugs or controlled substances that affect job performance and safety in order to:
1. Maintain a safe and healthy, drug and alcohol-free work environment for its employees.
2. Provide patients, families and customers the highest quality care and service possible.
3. Comply with the Drug-Free Workplace Act of 1988.
In order to ensure compliance with the policy in place, SAS conducts screenings for the detection of substances covered under this policy. These screenings are conducted for the purposes of Pre-Employment screening, for-cause / reasonable suspicion, post-accident, and random screenings. Please contact our Administrative offices for a more in depth explanation of this policy.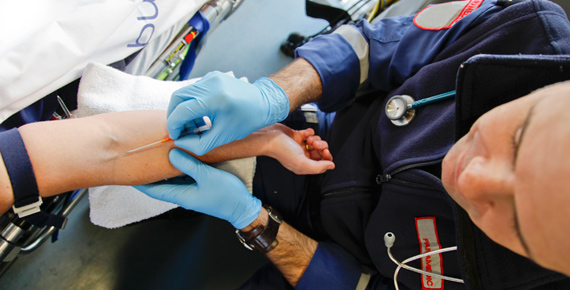 Below is a description of the benefits available with Superior. Please contact us with any questions you may have at (505)247-8840.
While we are still accepting applications for our postings, some positions may not be currently actively hiring due to complications related to the COVID-19 Pandemic.  We apologize for the inconvenience at this time.
You can also fax your resume to (505)836-7997 or email us at info@superior-nm.com.
Health Insurance – 50% of Employee cost is Employer Paid
Disability and Cafeteria Plan
Dental Insurance
Employee Training Subsidy
Company Sponsored CE's
IRA
Discount Gym membership
Bank and Credit Union preferred account services
Verizon Wireless Employee discount
All qualified applicants will receive consideration for employment without regard to race, color, religion, sex, sexual orientation, gender identity, national origin, disability, veteran status, age, marital status, pregnancy, genetic information, or other legally protected status.
Superior Ambulance is committed to providing access, equal opportunity and reasonable accommodation for individuals with disabilities in employment, its services, programs, and activities. To request reasonable accommodation, contact the Department of Personnel Management at 505-247-8840, Extension 9 or via Electronic Mail at info@superior-nm.com. Once received, a determination on your request for reasonable accommodation will be made based on the merits of your request. Each request will be reviewed and a determination made accordingly, on a case-by-case basis.
As a federal contractor, Superior Ambulance is required to participate in the E-Verify program to confirm eligibility to work in the United States. For more information, please click on the following link: E-Verify.
The law requires Superior Ambulance Service to post a notice describing the Federal laws prohibiting job discrimination. For information regarding your legal rights and protections, please click on the following links: EEO is the Law and EEO is the Law Supplement.
Superior Ambulance Service will not discharge, retaliate, or in any other manner discriminate against employees or applicants because they have inquired about, discussed, or disclosed their own pay. Please see the Pay Transparency Nondiscrimination Provision for more information.